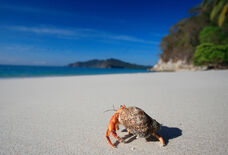 Hermit Beach
is a beachside known for its large population of hermit crabs.
It is only shown in one episode, Janice's Shoes.
Description
Its very large and sandy with many seashells. Many things that fall into the sea get washed up here, and are inhabited by hermet crabs.
In the ending credits, two hermit crabs have inhabited Janice's shoes, which washed up on the shore of Hermit Beach.
Trivia
All of the hermit crabs used were stuffed souveniers. No real crabs were used because of budget and high unpredictability.