Jurassic World: Dominion Dominates Fandom Wikis - The Loop
Play Sound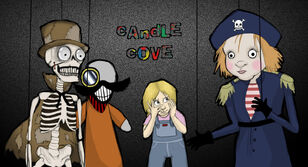 Production of Candle Cove development took place roughly between 1966 and 1971, almost five years, according to the creators in an 1971 interview with Tom Thrives.
The broadcasting studio was known as HeyKids.
Background
Initially beginning as an experimental artistic endevour, the project changed over the years to become a children's television show, which they [the creators] hoped could present educational themes, which young children would understand, with a mixture of humour and entertainment.
Tom Thrives, the lead designer of Candle Cove, created the concept in mid-1966 while studying arts and media at the University of Ohio. The original idea was to explore the artistic possibilities puppetry had. However, by the end of the year, the focus was on a children's television program. At this time, most of the characters and setting were only a framework, and over the course of the next few years went through the stages of development until 1969, when they had been finalized.
During 1967, progress on the project was slowed down as Thrives was involved in media related work. Jeremy Laberge, a friend of Thrives, offered his services in the same year and quickly got the position of assistant producer. 
Lynn Huntington would join the group in late 1970, and was put in charge of directing the pilot episode.
Design
Two students of Ohio University, Caroline Barker and Mary Prescott, were commissioned by Thrives in 1968 to build the puppets. The production budget was very low and it gave the team very little to work with (most of the funding came from Thrives himself). As a result, the puppets and set looked very cheap and gritty. In some instances, they had to use already made puppets or stuffed toys. They also sometimes borrowed set pieces from other shows the studio had produced. This did not deter the development in any way, and made room for innovation, which would pay off in the end.
The set for Candle Cove was designed and built by Thrives and Laberge over the course of two years (1968 and 1969). 1966 and 1967 were primarily the conceptual years.
Side Notes
The character of Janice was not implemented into the show until 1969, and was initially called "Jaydee", which was only in the original pilot. Pirate Percy was known as "Prowler Percy" from the beginning, and this naming was also used in the original pilot episode, but changed in subsequent episodes.
Janice's sister Melrose was a late addition to the show, primarily because its focus was not on live actors, and two were already seen as pushing the limit by Thrives. As stated by him, "I want it to incorporate realism but also leave a lot up to the child's imagination".
Also, many times stage hands were asked to voice characters in the show. Many of the actors were students, not well known, or already employed and working on the show. One actor was a janitor for the studio.