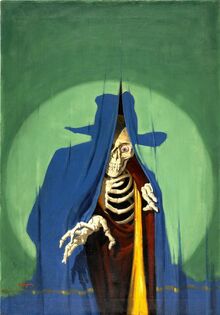 Candle Cove episodes 5, 6, 7, 9, 10, and 12 of the second season were SEBTAW-exclusive. Nobody except children who were affected by these signals could view these episodes.
Controversy
These special episodes were unlike the other episodes, as no versions that were implemented with the SEBTAW technology exist. For this reason, investigators have little information about them, except for the notable episode 12. Most of those who watched Candle Cove believe that episode 11 was the season finale, since episode 12 was not rebroadcasted in 1972.
SEBTAW-exclusive episodes contained darker themes and more grotesque images. For example, the Skin-Taker only plays a major disturbing role in these episodes. One notable effect of the SEBTAW-exclusive episodes is that trying to remember them often causes head-aches.
Side Notes
The show's producers have neither confirmed nor denied that NASA was involved in this. However, NASA admitted to having SEBTAW technology in 2007, exclusively. As well, the US government has systematically denied the use of SEBTAW technology, and have still have not made any comments on Candle Cove. As a matter of fact, it is not entirely sure how many episodes in the show there were because of SEBTAW.
Possible Episodes: